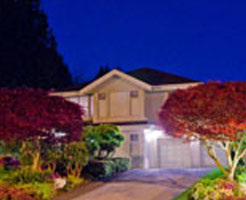 What is commercial security lighting purpose? What is it for?
Commercial security lighting primary purpose in Fort Mill, SC is to make it easier to spot and catch would-be thieves attacking your business — or better still, to deter them from trying to steal anything in the first place — but it has other uses as well. It keeps your employees and customers safe by letting them see what they are doing after dark.Ideally, it should be able to do all this without your having to spend too much on installation or on power afterwards.
To decide how much light you need after business hours, talk with a professional commercial security lighting contractor and figure out what the right wattage is, where the best places to put it are and how to control it. You should use LED bulbs, as these are the most efficient on the market. Be sure to arrange some protection for your commercial security lighting against vandalism by positioning it out of reach or shielding it with wire mesh.
Installing indoor commercial security lighting
Commercial security lighting is not only there to protect the outside of your business. It can play an equally important role in keeping everything safe indoors. The lighting you have installed for everyday use should provideall the indoor security lighting you need during regular business hours. The question is what to do outside those hours.
Indoor commercial security lighting operates on the same principle as leaving the lights on at home when you go out, or setting them to go on and off on an automatic timer. By making your business look busier than it is, it makes it look less attractive to criminals. It also helps those personnel still on the premises stay safer. Once again, you should begin by deciding where the lighting should be and what sort of lighting it should be. Start with the easy-access areas of your building. Directed lighting is very useful in places like this.
Commercial security lighting services in Fort Mill, SC
Pyramid Electric Service are electrical contractors licensed in North and South Carolina and serving the greater Charlotte area, including Charlotte, Rock Hill, Fort Mill, Indian Land, Marvin, Weddington, Matthews and Waxhaw. We offer a great variety of different interior and exterior lighting services with first-rate products, professional materials and expert installation and maintenance by master electricians, including security lighting and camera installation for your business. Expertise.com rated our company as one of the top 25 electrical contractors in the Charlotte area. We also offer emergency service 24 hours a day, seven days a week for homes and businesses. Call the electricians you can trust. We have been serving York, Lancaster, Mecklenburg and Union Counties since 1963.