Security lighting and security cameras can prevent burglary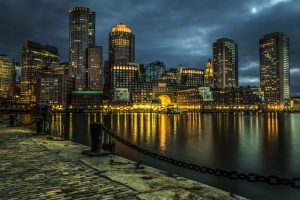 Security lighting and security cameras are crucial to your home security system. Catching criminals is good, but preventing crime is better. According to a study by the UNC Charlotte Department of Criminal Justice and Criminology, the thing that most deters would-be burglars is a property that is well-lit at night, with no pools of shadow in which to hide. Lights are most effective when they are pointed away from your house, high enough on the walls to be out of reach of vandals, and do not create any glare that would be a problem from the vantage point of someone inside the house itself. They should be wired in such a way that they cannot be sabotaged from outside, and should be shielded against bad weather and vandalism.
If this is a new installation and you expect it to last for a long time, your best bet it to use LED bulbs. They cost more to buy up front, but over the course of 25,000 hours (the lifetime of an LED bulb, and a little over five and a half years worth of nights), an LED bulb costs only 38 percent of what incandescent bulbs cost.
Setting up security cameras
Security cameras, and signage out front letting interested parties know that the cameras are there and watching, are also an effective deterrent to intruders. In order to set up a security camera system, start by making a diagram of your property and figure out what most needs watching. Areas to concentrate on are the doors, driveways, porches and the windows that do not face the street, but you should make sure that knocking out one camera will not leave any part of your home unguarded. Then decide where you want the images from the cameras to go to and be stored.
Fort Mill and Charlotte Security lighting and camera services
Setting up security lighting and security cameras, giving them a reliable source of power and creating a reliable system to take the feed from the cameras is not a job you should try to do by yourself. It is better to call experts who will make sure the work is done right. Pyramid Electric Service are electrical contractors licensed in North and South Carolina and serving the greater Charlotte area, including Charlotte, Rock Hill, Fort Mill, Indian Land, Marvin, Weddington, Matthews and Waxhaw. We offer a range of interior and exterior lighting services with first-rate products, professional materials and expert installation and maintenance by master electricians, including security lighting and camera installation for your home or business. Expertise.com rated us one of the top 25 electrical contractors in the Charlotte area. We offer emergency service 24 hours a day, seven days a week. Call the electricians you can trust. We have been serving York, Lancaster, Mecklenburg and Union Counties since 1963.